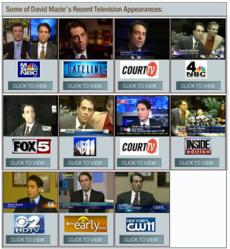 Roseland, New Jersey (PRWEB) February 02, 2012
A 13-year old girl who was physically and sexually abused while in the care of DYFS accepted $ 5 million on December 16, 2011 to settle her lawsuit, L.A. v. DYFS, Superior Court of New Jersey, Law Division, Mercer County, Docket No.: MER-L-1131-07. The settlement initially was reported by NJ.Com.
On December 16, 2011, a jury in the Superior Court in Mercer County New Jersey awarded a verdict of $ 3.25 million in favor of a minor child who suffered extensive physical and psychological abuse while in DYFS's custody. Prior to the punitive damages phase of the case, the parties agreed to settle the case for $ 5 million. As a result of the settlement the jury's verdict was vacated.
The trial coverage by NJ.com described that the child was placed in her biological father's home by DYFS in 2000 after her biological mother abandoned her. "During a five-month period in the Asbury Park apartment, the baby was brought to the emergency room twice, was burned and was later found to have been sexually abused," according to the NJ.Com news coverage.
As further reported in NJ.Com, during the course of the trial, the family's lawyer, David Mazie, argued the baby should have never been placed with her biological father, and that three DYFS caseworkers who handled her case could have stopped the abuse by checking on her once a month, as they were supposed to, or removing her when a neighbor reported the baby was being abused to DYFS. "There were also court-ordered requirements, like daycare, that DYFS didn't follow through with," according to Mazie.    
"They finally removed her from the home, Mazie said, when she was found beaten, with her hands tied, hanging from a hook." NJ.Com.
The girl, represented by New Jersey trial lawyers David A. Mazie and Beth Baldinger of Mazie, Slater, Katz & Freeman in Roseland, New Jersey, sued DYFS and the DYFS caseworkers who allowed the abuse to occur. According to NJ.Com, the $ 5 million settlement is believed to be one of the largest settlements ever paid by DYFS for a single child.
Mazie Slater Katz & Freeman has highly-developed a home reputation for handling difficult and high profile cased, many of which have been featured in newspapers and magazines around the country, as well as on NBC, CBS, ABC, Court TV, Dan Abrams Reports, and Dateline. Each of the firm's lead trial lawyers has been certified by the New Jersey Supreme Court as Civil Trial Attorneys, and the firm's partners have received numerous awards of distinction, such the [New Jersey Law Journal's Lawyer of the Year, Best Lawyers, Law Dragon's Top 500 Plaintiff's Lawyers in the Country, Super Lawyers, and Ten Leaders.
For further information about the firm's multi-million New Jersey personal injury verdicts and settlements, contact NJ personal injury lawyer David A. Mazie.
###